10 Reasons to Become a Bartender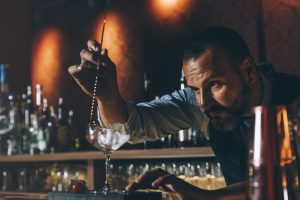 Los Angeles Bartending School can train you in as little as 3 weeks to become a professional certified bartender. Our bartending schools have trained thousands of bartenders, each with individual attention. You can become a bartender anywhere in the country! Los Angeles Bartending School is part of a nationwide collective of independent bartending schools with National Bartenders.
Have a great time while working and get paid for it.
Meet tons of new friends and interesting people.
Flexible hours. Full time or part time shifts.
Everyday is always different.
Fun!!!
Do it for a career, extra money, your own business or just a hobby.
There will always be a demand for bartenders across the whole country.
Tips!
No deadlines
No suits
We strongly emphasize these points because coming to Los Angeles Bartending School is just the first step to your new lifestyle as a bartender. Unlike other types of schools though, our bartending schools ensure that you are never without FREE job placement assistance. Your job is simply to get through bartending school classes. Our job is to help you make bartending school the best investment you ever make.
It is important that you know the atmosphere of a bar before you start. We take our students to the extent with our state of the art simulated happy hours! Our school is equipped with disco lighting, fog machines, strobe lights and surround sound to give you the most realistic atmosphere of a nightclub that any bartending school can offer. We want you to know what it's like being behind a bar during these distractions. Whether you choose to work a high volume night club or high class restaurant you will be prepared for any type of bar.
Please come see us and decide for yourself if bartending is for you. We can promise you one other thing. You will always have more fun at our bartending school than any other type of school you could attend.
Call today for more information (213) 380-3200.