Vodka Tonic Ingredients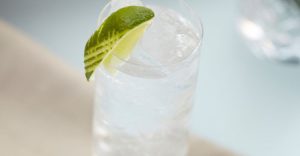 The Vodka Tonic is similar in ingredients and preparation to the Gin & Tonic, as it is a simple drink; however, with this drink it is almost flavorless except for the lime.
You can change this up though by using a flavored vodka.
The key to a good Vodka Tonic is quality vodka and a good tonic.
Because this drink is naturally lacking in flavor; if you use a bitter tasting tonic, the cocktail can be unpleasant to some.
If you offer a variety of tonics at your establishment, be sure to ask your patrons if they have a preference for this refreshment.
Ingredients:
2 oz Vodka
Tonic Water
Splash of fresh Lime Juice
Lime Wedge or Slices for garnish
Preparation:
Pour vodka and lime juice into highball glass over ice.
Fill with tonic water and stir well.
Garish with lime wedge or float 2-3 lime slices.