California Law for Bartenders to Wear Gloves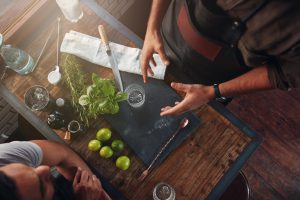 A new law went into effect at the beginning of 2014 that has some bartenders on the rocks.
According to the California Retail Food Code, any culinary worker who handles "ready-to-eat" foods must wear gloves or use utensils such as tongs, paper or scoops when handling foods.
This includes bartenders since they handle garnishes and ice to prepare customer's drinks.
While health officials feel this change will provide a more sanitary environment, some bartenders say the gloves will get just as "contaminated" as your hands do.
One bartender told NBC, "You are constantly washing your hands or having them touching ice and juice… it will just get into the gloves anyway."
Whether you agree with it or not, if you plan to work in Los Angeles through our Los Angeles Bartending School, you might as well prepare for it.
The new law went into effect at the beginning of the year and according to the Los Angeles County Department of Public Health, during the first six months to a year it will undergo a "soft roll-out" to educate business owners and health inspectors.
During this roll-out, no points will be deducted if food handlers are not wearing gloves, but establishments will receive a warning.
After the warning is given and compliance is still an issue, health code point deductions may be received.
So, if you're not a fan of wearing gloves, we suggest that you get plenty of practice in with tongs and toothpicks.
Master the art of using utensils to place different garnishes inside and on the rims of glasses.